Following the March 8, 2016 set up iron ore powder suppliers in China - Mongolia erlian sheng trade co., LTD to me in the group investigation cooperation, since both the business has been very smooth, the effect is quite obvious, I group has become the largest distributor in Mongolia iron ore in China, in order to further expand business cooperation, achieve sales increase, May 9, the company's managing director Zou Feng line again painstakingly to group the consultation to expand cooperation.Addition of logistics business, vice President of operations business management comprehensive work li-qin guo for the entire journey reception.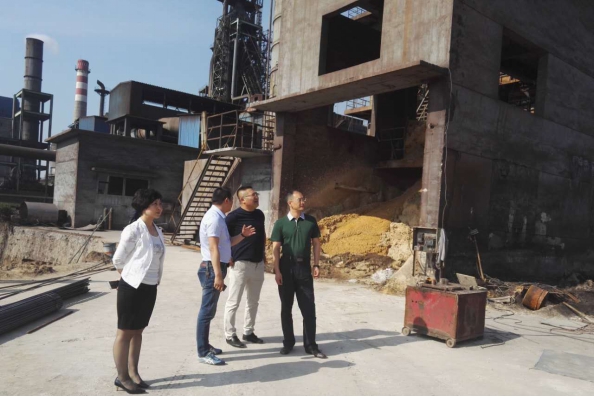 Industrial division management comprehensive work business vice President li-qin guo (left), accompanied by sheng trade limited liability company general manager in Zou Feng (third left), a line of visiting in Gao Yi iron and steel company
Zou Feng row first came to my group, general manager of operations for its from the warehouse loading and unloading, and storage conditions of lead ore sales field view, listen to the report of the business personnel and field personnel.At the scene, when after arrival zou row always see strategies for private sidings unloading specification quickly, clear bottom completely in a timely manner, stockpiling film covering sealed, convenient and quick to pick up the goods, the ground clean and neat situation full of praise, for our service is very satisfied.

After examining the scene, Zou Feng general manager decided to visit some customers.

On May 10, early in the morning, a row first came to shanxi rakhine Zou Feng general manager group co., LTD., shanxi huaqiang steel company and some of the concentrator for visiting, then focus on visited Gao Yi iron and steel company, located in the shanxi.In the company, they just update the latest desulfurization equipment, listened to the company responsible for the second selection of outer Mongolia to further establish ore concentrator, awareness of the company after the update on desulfurization equipment and conduct kuangfen selected foreign good momentum of ore further demand.

After two days of investigation research, Zou Feng, general manager of a line of fully aware of our good services, the peripheral market strong demand, strengthened the confidence of the long-term cooperation with group.Departure, Zou Feng, general manager of a line to me said it would further expand the supply of dynamics, in order to better meet the market demand growth, achieve common development with each other.